Noise Impact Assessment
Done Right!
FDI Acoustics Inc. is an independent acoustical consulting firm specializing in environmental noise. We provide noise impact assessments, comprehensive sound surveys, noise monitoring, occupational noise exposure mapping and assessments, transportation and traffic noise assessments, real time long term noise monitoring, aggregate operations noise assessment and monitoring and practical noise solutions for your project.
Our experience includes the energy industry, oil and gas, commercial and construction noise, manufacturing and vehicle repair shops, occupational health and safety assessments, noise orders, transportation noise projects, fracturing noise, drilling rig noise, heavy oil, compressor stations, single and multi-well batteries, power generation, gas plants, pipelines, oil sands, transmission lines, co-generation, aggregate, mining and more. Our experience includes projects in Manitoba, Saskatchewan, Alberta, British Columbia and the USA.
With over 60 years combined experience, 5000+ projects, repeat clients, we've kept things quiet!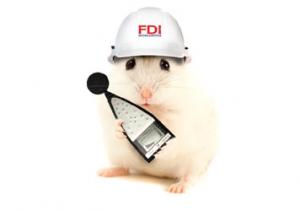 During this time of concern and uncertainty we'd like to express our sincere appreciation to all individuals working tirelessly around the clock to help others. 
During the COVID-19 Pandemic FDI Acoustics will be following the advice of the AER, OGC, Provincial Government, Federal Government and WHO.
Please note that FDI has been in discussion with the Alberta Energy Regulator and the BC Oil and Gas Commission regarding Noise Impact Assessments required during these uncertain times. At this time, we will be completing Theoretical NIA's only and please be assured that FDI has discussed multiple scenarios where under normal operating conditions in the province of Alberta and British Columbia a site visit or compliance monitoring would be required.
In 2011, FDI's employees were setup to allow for remote office access and we will continue to maintain safety, client service and confidentiality from within our remote and current office locations. Should you require further information, have any questions or require past or present NIA information or assistance please do not hesitate to contact us via email or phone.
FDI will continue to support you and your projects and we'd like to take this opportunity to wish you, your team, family and friends the very best.
Stay Safe,
The FDI Acoustics Team
AUC Rule 012 Pristine Area Bulletin 2020-04
BC Energy industry clients: Please note that the OGC has issued a New Noise Control Best Practises Guideline effective January 1, 2019.
Farmington Area: New Noise Controls for Operators in Farmington – Industry Bulletin 2018-26
ALBERTA Energy industry clients: Please note that the AER and AUC Eliminated the "deferred status" for Pre – 1988 facilities on October 17, 2018 AER and AUC.
The Noise Impact Assessment (NIA) is a technical report that presents the calculated
existing or future noise impact of a facility on its environment.
Sound Monitoring Surveys document the sound environment at a specific reception
location throughout a measurement period.
Development, Evaluation and Optimization
Transportation Noise Impact  Assessments, Transportation Noise Surveys and Analysis
The measurement of worker noise exposure levels
Aggregate Noise Assessments, Noise Surveys and Analysis
PROJECT SUMMARIES
Read about the successes we have had, here are a few examples.
We have over 55 years of combined experience and over 5000+ projects
FDI is Committed to Safety and Proud to be I.R.P. 16 Compliant